Complete Story

05/10/2023
COR/ISHR Rhetorical Get Togethers
Dear $$Nickname$$,
The Centre for Oratory and Rhetoric (COR) at Royal Holloway, University of London, and the International Society for the History of Rhetoric (ISHR) are delighted to announce the third series of COR/ISHR Rhetorical Get Togethers. This series' theme will be "Rhetorical representations of war and atrocities in deliberative and forensic oratory and in speeches in Graeco-Roman historiography".
The series will be made up of five virtual "get togethers" which will take place on Zoom every Friday in June from 3 to 5 pm (GMT). The programme is below.
All welcome! Please email Giulia Maltagliati (gm716@cam.ac.uk) to register your interest; you will be added to our mailing list and will receive links to the sessions and further details closer to the time. We hope that you will be able to join us!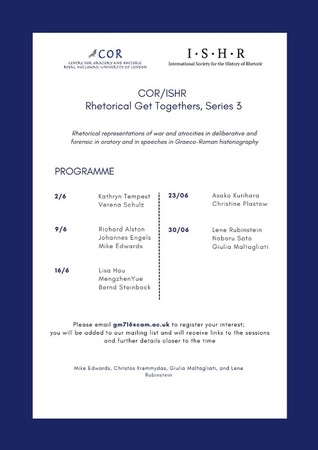 ---