International Studies in the History of Rhetoric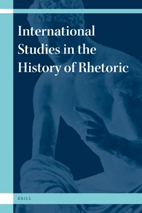 The International Society for the History of Rhetoric and Brill are pleased to announce a new monograph series. International Studies in the History of Rhetoric is a peer-reviewed series published under the auspices of the Society and edited by Professor Laurent Pernot (University of Strasbourg) and Professor Craig Kallendorf (Texas A&M University).
The series publishes scholarly monographs on the history of rhetoric in its broadcast sense, i.e., original and innovative research concerning the theory and the practice of rhetoric in relation to politics, religion, law and other aspects of culture and society, and in all historical periods. Original sources and documents, as well as critical editions of texts will also be considered.
For more information on book proposals, please contact Mirjam Elbers, Editor Classical Studies, elbers@brill.com
---
Titles in the series include:
Heinrich F. Plett, Universität Duisburg-Essen
The present study provides an extensive treatment of the topic of enargeia on the basis of the classical and humanist sources of its theoretical foundation. These serve as the basis for detailed analyses of verbal and pictorial works of the Classical Antiquity and the Early Modern Age.
Roland Meynet
This book is a summary of the laws Biblical and Semitic rhetoric, which includes not only the Hebrew Bible and the Deuterocanonical books, but also the New Testament.


Heinrich F. Plett
The subject of this book is literary rhetoric which is treated both in a historical outline and a systematic concept, implemented in analyses of literary texts of all ages and languages.
Edited by Laurent Pernot
This volume gathers over forty papers by leading scholars in the field of the history of rhetoric. It illustrates the current trends of this new area of research and covers the Bible, Classical Antiquity, Medieval and Modern Europe, Chinese and Corean civilization, and the contemporary world.


---
Editorial Board
EDITORS:
Laurent Pernot, Executive Editor, Strasbourg, France
Craig Kallendorf, College Station, U.S.A.
ADVISORY BOARD:
Bé Breij, Nijmegen, Netherlands
Rudong Chen, Peking, China
Manfred Kraus, Tübingen, Germany
Gabriella Moretti, Trento, Italy
Luisa Angelica Puig Llano, Mexico City, Mexico
Christine Sutherland, Calgary, Canada